Additional Information
| | |
| --- | --- |
| Item Condition | Brand New |
| Manufacturer | Antec |
The new flagship in Antec's Gaming series, the Eleven Hundred, brings ultimate gaming builds to life. The Eleven Hundred's nine expansion slots and space for an XL-ATX motherboard accommodate elite GPU configurations up to 3-way NVIDIA SLI / 4-way AMD CrossFireX. An included top 200 mm exhaust fan, rear 120 mm fan and up to seven more optional fans in strategic positions - including behind the motherboard tray - keep all your components comfortably firing on all cylinders.

The Eleven Hundred also lets you organize a clean, powerful build with superior cable routing, including 36 mm of space behind the motherboard tray and grommet-lined cable routing holes.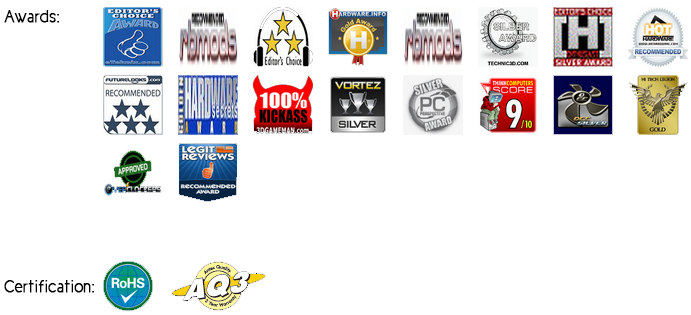 Model
Eleven Hundred
Case Typoe
Mid Tower
Color
Black
Cooling System

One 200 mm blue LED top fan
One 120 mm rear fan
One 120 mm intake fan behind. motherboard for CPU cooling (optional)
Two 120 mm internal intake fans (optional)
Two 120 mm front intake fans (optional)
Two 120 mm side panel fans to cool graphic cards (optional)
Fan power hub (allows you to connect four 3-pin fans to a single Molex for improved cable management)

Drive Bays

Three 5.25" tool-less drive bays
Two 2.5" drive bays (dedicated)
Six 3.5" tool-less drive bays (rail-mount design)

Front Ports

Two USB 3.0 with internal motherboard connector
Two USB 2.0
Audio In/Out

Expansion Slots

9 expansion slots
13" (330 mm) video card size

Maximum CPU cooler height
6.7" (170 mm)
PSU
None
Motherboard Support
XL-ATX [13.6" x 10.3" (345 mm x 262 mm)], Standard ATX, microATX, Mini-ITX)
CPU Cutout
Enlarged CPU Cutout
Cable Management
Grommet-lined cable routing holes with 36 mm of space behind the motherboard tray
Side panel features

Side Panel Window (Right side)
Two 120 mm fan mounts (Right side-Optional)
One 120 mm fan mount behind motherboard (Left side-Optional)

Dimensions

20.7" (H) x 9.3" (W) x 21.5" (D) /
527 mm (H) x 237 mm (W) x 546 mm (D)
We no longer accept online orders at this time. We apologize for any inconvenience caused by this.